Enneagram - Scriptural Characters & Spiritual Leaders (Spirituality Series)
Location
Online - register to receive the event link.
Time
6:30 - 8:30pm Mountain Time
What do the Apostle Paul and Gandhi have in common? Or Joan of Arc and Martin Luther? Judas Iscariot and Pontius Pilate? King Solomon and Francis of Assisi? Comet and Vixen (just kidding, ho ho ho!).

Let's prepare for the holiday season by having some Ennea-FUN and deepen our spiritual insights as we discuss these and many more characters!

CATEGORIES for discussion
Hebrew Scriptures (aka Old Testament)
Christian Scriptures (aka New Testament)
Spiritual Leaders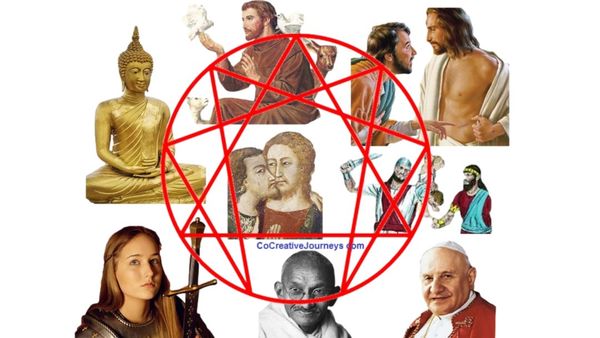 Of course we don't know their types - only they would know. But learning can be enlightening as we delve into what motivates these great characters, expanding our Enneagram knowledge in this entertaining way. You are encouraged to bring your opinions and supporting rationale!

---------
BIO of Presenter and Group Leader
Rev. Paul Paiva holds a Master of Divinity and Master of Arts in Theology. He is a devout Feminist Christian who is sex-positive and LGBTQIA-embracing. For 17 years he has taught the Enneagram as a tool for personal growth to couples, individuals, and groups, and is currently the President of Enneagram Colorado. He does couples counseling, and is a certified intimacy and sexuality coach who teaches the Erotic Blueprints™ to singles and couples who want to ignite their passion, including those affected by religion-induced expectations and shame. His primary tool in counseling and coaching is the Enneagram. He is a former Roman Catholic priest who performs romantic and entertaining wedding ceremonies.
CoCreativeIntimacy.com
CoCreativeJourneys.com
CoCreativeEnneagram.com
---------
ATTENDANCE will be ONLINE via a Zoom link that is visible on this page after you sign-up. Or email PaulP@CoCreativeIntimacy.com with any technical or other questions.

A special WELCOME to those from afar who can join us from anywhere!

6:30 Meeting STARTS PROMPTLY. May I suggest joining at 6:20 or 6:25 in case any technical glitches need to be solved in your environment.
---------
AFTER the meeting, we will do some ONLINE SOCIALIZING, so keep your favorite cup of hot cocoa, egg nog, or candy canes nearby.